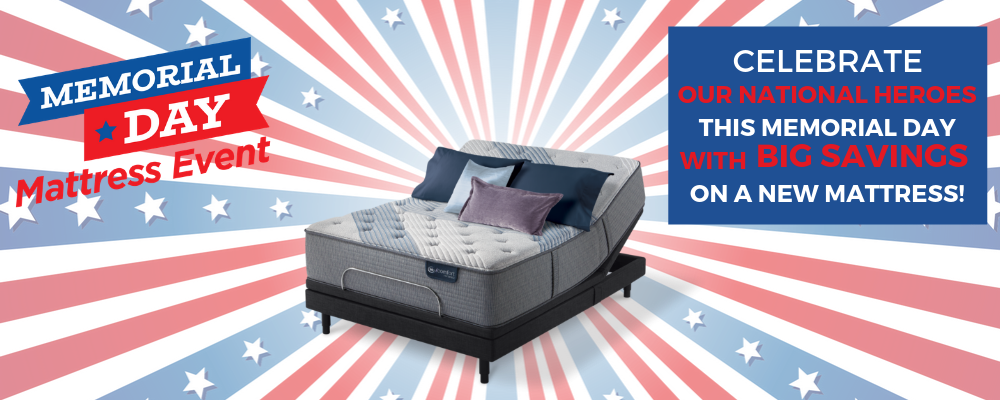 MLF Memorial Day 2019
Make Memorial Day Matter with a New Mattress!!
Celebrate our National Heroes this Memorial Day and get ready for Summer with big savings on every Mattress in our stores! Savings will stretch across all major brands including iComfort®, Serta®, Beautyrest® and SpringAir®. No coupon or special discount code needed. Just visit any or our six convenient locations in the Houston area for up to 70% savings with closeout pricing on all 2018 mattress models! Plus, save up to $800 and get a Sleeptracker system with any premium mattress!
What is a Sleeptracker system? It is a fully integrated, Alexa enabled, wearable-free system designed to continuously monitor all stages of your nighttime activity; from light to deep sleep, restorative REM sleep, breathing and heart rate. It makes your bed a smart bed and works with your bed regardless of the type of mattress, box spring or bedding. The intuitive app will show you precise readings and translate the information for personalized sleep data.
Check out our premium collection to save up to $800 and make your bed a smart bed this Memorial day!
We would love to celebrate with you in person! Buying in the store is the tried and true method to ensure the mattress you purchase is a perfect fit for you. If you need to save a little time, feel free to browse online and narrow your selection before you make the trip. This makes narrowing your search for the perfect mattress a breeze. We also offer same day delivery which cuts out having to wait days or weeks for your new mattress to arrive.
Buy it TODAY and sleep better TONIGHT. We look forward to celebrating our heroes with you!