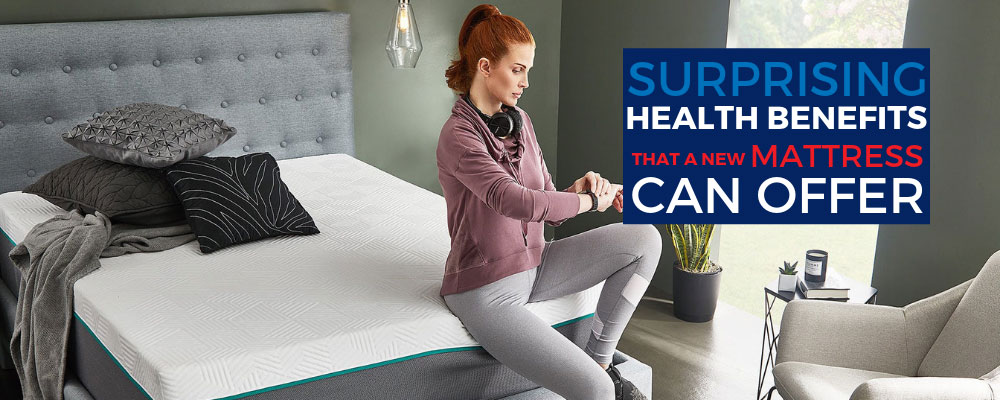 Surprising Health Benefits that a New Mattress Can Offer
Did you know that according to a recent study by the Oklahoma State University, most people replace their cars and appliances more often than their mattress?  Runners replace their shoes after a certain number of miles to prevent injury, and we replace the tires on our cars to promote safety and improve driving conditions.  There are several reasons why you should replace your mattress after a certain number of years to improve your overall health and wellness.
Most people are aware of the benefits of a good nights' sleep.  However, we don't think about how replacing our mattress can contribute to the quality and comfort of our sleep, as well as the overall health benefits.  As our mattress ages, it accumulates dust mites, allergens, dead skin, and bodily fluids that can almost double its weight!  The actual mattress itself also subtly breaks down over the years which directly impacts its ability support you for a good night's rest.
The National Sleep Foundation recommends an average of 8 hours of sleep per night.  Most Americans average less than seven hours per night, which indicates an average of more than six hours of sleep deprivation per week!  With the lack of sleep being directly related to higher levels of depression, anxiety and fatigue, you can see why a good night's sleep is important to your overall health and well- being.
Just a few benefits of replacing your mattress in a timely manner are:
Improved sleep quality and comfort
Reduced back pain and stiffness
Relief from sinus and allergy symptoms
Improved immune system function
Improved brain Function
Reduced stress
Come visit or call us and be on your way to a better night's sleep tonight!!!
No Credit or bad credit? No Problem!
Pay no interest until 2024…and EVERYONE's approved!
Visit any one of our 5 convenient locations!!
North Houston, Katy, Spring / The Woodlands, Webster / Clear Lake, & Town & Country
Mattresses for Less Store Hours
All Stores
Mon-Sat 10:00 am to 9:00 pm
Sun 10:00 am to 7:00 pm